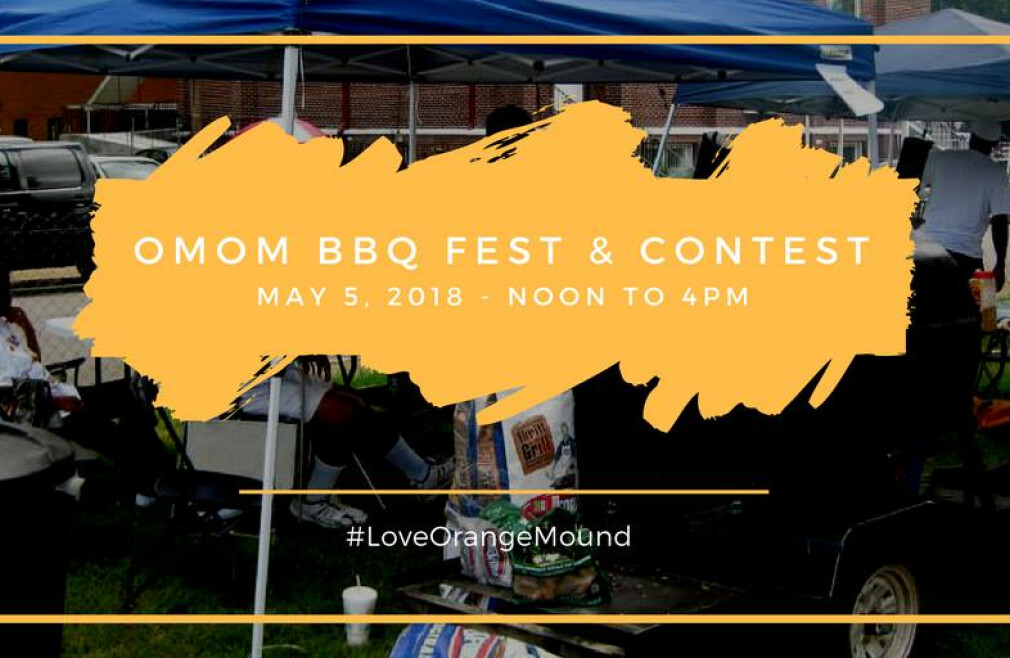 Saturday, May 05, 2018
,
12:00 PM - 4:00 PM
OMOM BBQ Fest & Contest 2018
Mark your calendars for Orange Mound Outreach Ministries' annual BBQ Fest & Contest! Join us at Orange Mound Outreach Ministries at 845 Marechalneil Street in Memphis on Saturday, May 5th from 12:00 PM - 4:00 PM for free food, praise dancing, music, and fun for the entire family!

COMPETE IN THE CONTEST
If you're interested in competing in the BBQ contest, please contact Rev. Reginald Tucker at 901.315.0596 or Mary Tucker at 901.644.1416 or You can find the BBQ contest rules below. We'll fire up the grills on Saturday at 6:00 AM, and the judges will make their decisions around 4:00 PM.

BBQ CONTEST RULES
*****No Entry Fee*****
Categories:
(1.) Ribs: (Loin back or Spare ribs) Quantity at least 7 slabs must be entered.
(2.) Pork Shoulders: (Butts are ok) Quantity 2 or more.
(3.) Chicken: (Legs and wings) no quantity
(4.) Other: Any meat of your choice

Food must be cooked on site and ready for judging as follows:
- Tents can be set up after 3:00 pm the day before.
- All participants need to be present to get started by 6:00 am.
- Judging 3:00 pm, with prior announcements

Judging will be by blind judging by three qualified judges and will be anonymous. Judging containers will be provided. No garnish on meat, barbeque sauce only. No liquid smoke, Sauce is optional.

All cooked meats after judging will be donated to Orange Mound In May immediately following judging for serving to the neighborhood.

Charcoal or natural (wood) fuel is allowed. No propane or fossil fuel.

Further rules and notices may be necessary at a later date prior to the event.

Absolutely no alcoholic beverages allowed anywhere on the property of the center or park area. Anyone abusing this will be asked to leave immediately.

Questions and concerns should be directed to Rev. Reginald Tucker at 901.315.0596.